The prosperity of the climate of the Olmeda, the richness of its landscapes, the peculiarity of its popular architecture with steep streets and whitewashed houses, and the friendly and open character of its neighbors, surprises visitors and lovers of peace and tranquility. . A place so close to the city of Madrid and so distant in its calm reality.

For this reason, it has been chosen for decades to the present by painters, artists and intellectuals to establish their studio or rest. This environment that he gave rise to the nickname of "The town of artists" or "The Olmeda of painters" which La Olmeda is known
A place to enjoy its beauty and the colors that so many painters have portrayed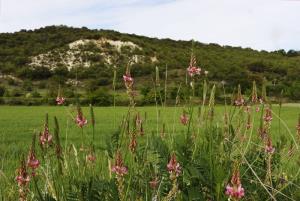 Olmeda de las Fuentes is located in the heart of Alcarria Madrileña in the enclave formed by the riverbed of the Tajuña river and the Vega de la Vega, an enclave known as "Almendra del Tajuña". A privileged environment, surrounded by unspoiled nature with great landscape richness, and which has hardly changed in the last century.

The alcarria, is characterized by a flat area of limestone land that is the moor from where the rainwater filters through the slopes to the valley. As in all the moors of the low alcarria, in the Alcarria of Alcalá the altitude of 900 meters is not exceeded. This creates a remarkable contrast between the holm oak groves and the dry farming of the páramo, and the small orchards, olive groves and aromatic herbs of the slopes and valleys.
Olmeda is a prototype of a farmhouse, which settled on the side of a slope facing south. The slopes that descend from the moors to the bottom of the valley, perpendicular to the one created by the La Vega stream from where the waters of the local springs flow, create a beautiful spot that welcomes La Olmeda.
Discover the charming Alcarria that hides the landscape and every corner of Olmeda. And enjoy the tranquility that this small municipality of 370 inhabitants offers
The aromatic plants of the Alcarria have traditionally been associated with the production of honey, known for its high quality. This is due to the great variety and abundance of honey plants that provided resources during a very wide time of the year, thanks to the staggered flowering of the different species.
The municipality has a special relevance in its population of birds, with 92 species during the reproductive period, which represent 48% of the species present in the Community of Madrid and 32% of the species present in Spain in that period, such and as collected by the inventory carried out by SEO / Birdlife.

It is one of the few enclaves where the absence of light pollution allows the observation of the stars with the naked eye and with simple devices. The quality of the sky, in this case, is part of the specificity of the Olmeda de las Fuentes landscape.